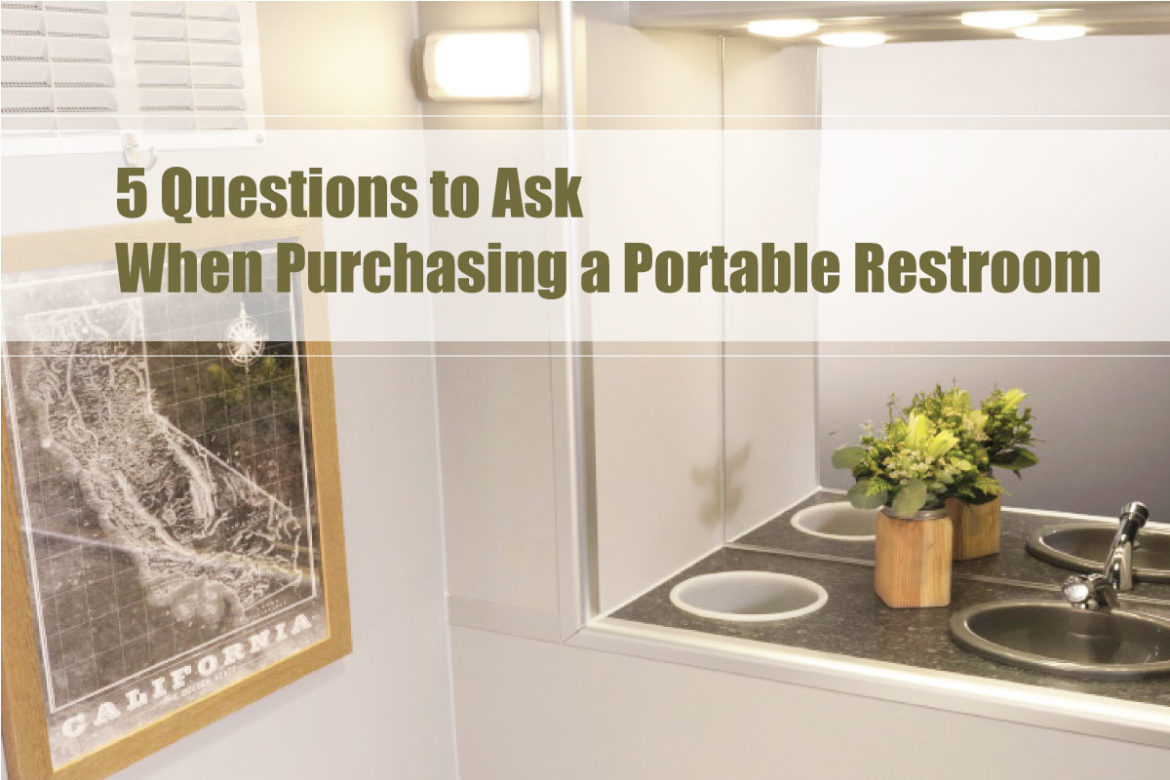 Perhaps you're researching luxury portable restrooms for your venue. Maybe your company is interested in expanding its rental fleet. Or it might be that you would like to provide quality, portable restrooms for your hard-working employees. No matter your goal, navigating the world of luxury portable restrooms can seem like a daunting task. This guide should assist you in asking the correct questions as you compare and explore the variety of luxury portable restrooms for sale today.
1. What sort of water and power specifications do luxury portable restrooms require?
Most luxury portable restrooms on the market can be operated with a few 110V electrical outlets. 220V to 110V step down transformers are an option if necessary, depending on the circuits available at your space. Using generators is a common practice in places where there is no electricity. Additionally, NuConcepts specifically, manufactures luxury portable restrooms that have solar power options! This feature allows NuConcepts units to be completely self sufficient when necessary, powering the lights and pumps all day long on solar charge. Similarly, it is important to find out whether the unit you are considering comes with a self contained fresh water tank or if it needs to be hooked up to a water source at all times. Either way, all you will need to supply your restroom with water at any point is a 3/4"garden hose.
2. What are the delivery costs of purchasing a luxury portable restroom?
When looking at luxury portable restrooms for sale, inquiring about a manufacturer's location and delivery fees is imperative. Depending on the manufacturer, you can expect to pay around $2-2.50/mile for delivery. Otherwise, you can generally pick up your restroom trailer yourself for free. Just remember that you may have to pay additional sales tax when you register your new restroom trailer at your DMV if you purchased it out of state.
3. What sort of long-term maintenance is associated with the purchase of a luxury portable restroom?
It is very important to keep your luxury portable restroom clean and maintained. Proper maintenance will ensure that it works perfectly, smells fresh, and looks great for years and years to come. The inside can be cleaned with standard household cleaners just like the ones you use in your bathroom at home. When storing your unit, you will want to make sure to follow the manufacturer's instructions for flushing out the tank and sealing the cabin off from harsh elements. Overall, maintenance of your luxury portable restroom is fairly low. When shopping for portable restrooms for sale, just be sure to ask representatives about obtaining replacement parts for your unit if necessary.  Additionally, it's always smart to inquire about the warranties associated with your purchase.
4. How much does it cost to service my luxury portable restroom?
Waste management costs will depend on your specific location. We recommend consulting with local septic companies who service your area. On average, you can expect to pay around $100-$200 per visit for a waste management truck. Otherwise, taking your trailer to an R.V. dump site should cost you little to nothing if you are willing to do it yourself.
5. How many portable restrooms will I need?
The amount of restrooms you will need depends on the number of guests you expect, the types of events you're hosting, the duration of the events and the capacity of the specific unit. Luxury portable restrooms come in many floor plans and capacities, so don't assume that all are created equal. You will need to consult with a company representative who can provide you with each model's waste and fresh water tank capacities. Every model is associated with an "average number of uses" which can help you to gauge the amount of traffic that the restroom can accommodate before needing to be serviced by a waste management technician. Additionally, factors like the presence of alcohol will impact the projected usage of your restroom.
Happy shopping, and please feel free to contact us with any questions you might have during your research of luxury portable restrooms for sale!